Hummer H3T Tonneau Cover Buyers Guide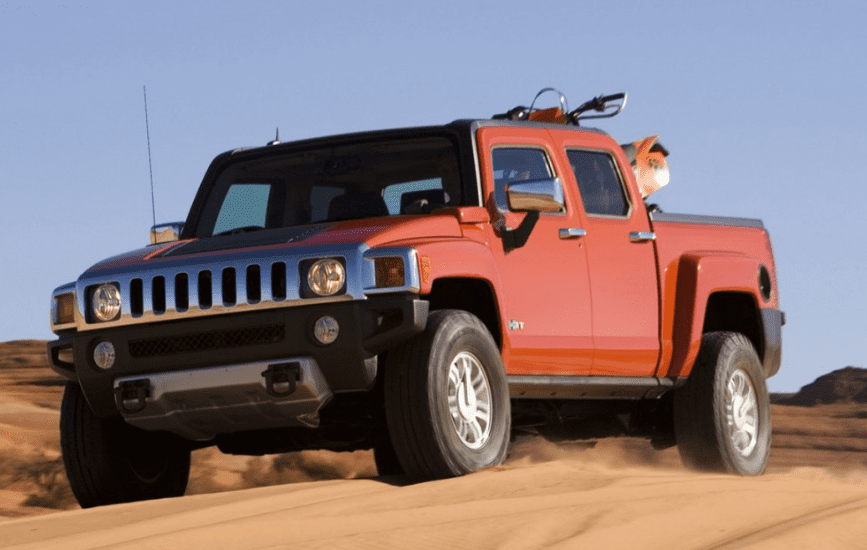 The Hummer H3 SUT is a midsize pickup truck that looks similar to an SUV and even comes with four doors. The bed of the vehicle is a full five feet long, and the vehicle itself holds a total of five passengers. You can purchase the H3T in either a four-speed automatic or a five-speed manual transmission, and you always get a four-wheel drive feature, 32-inch tires, and hill start assist.
Are you in a rush?
If you don't have a lot of time, use the links below to quickly get to the Best Overall Tonneau cover for your Hummer H3T on Amazon. You can be sure that you will be purchasing a quality product. We picked the best.
-Best Overall – Extang Solid Fold 2.0
-Best Cost Value – TruXedo Lo Pro Soft Roll Up
Some of the other features that make this vehicle unique include front and rear locking differentials, OnStar, XM satellite radio, specifically tuned shocks, and Bluetooth wireless connectivity. These things are all standard when you purchase this truck, and you now get certain safety features as well, including airbags, stability and traction control, and anti-lock brakes, among others.
The price of the Hummer H3T ranged from around $31,000 to $39,000, so it was not an unreasonably priced vehicle. It has a 3.7L I-5 engine and is the perfect vehicle for people who love the freedom of an all-wheel drive and the beauty of a standard car. Its sharp features make it a real head-turner when you're on the road, and the bed is so large it can hold a snowmobile, sheets of plywood, or two dirt bikes, making it a very versatile truck indeed.
We are an affiliate
We hope that you enjoy the products that we are recommending. We have done our very best to ensure that we only recommend quality products. Best Bed Covers may earn a small percentage of the purchase price if you purchase using the links on this page. This comes at no cost to you and does not increase the cost of the item. Thank you very much for using our links. It helps keep us going.
Extang Solid Fold 2.0 Hard Folding Cover
This hard-folding truck bed cover has heavy-duty panels that are lightweight but protect the bed from dents, scratches, and all sorts of inclement weather. Not only is this bed cover easy to install and easy to use, but it also comes fully assembled so it doesn't take you too much time, either. The watertight seals mean that all of the belongings inside of your truck bed are safe from leaks, and it is also resistant to defects such as scratches and harmful UV rays.
The EZ-lock tailgate clamps ensure a snug fit every time, allowing you to ride with confidence, and the cover enhances both the appearance and the security of all types of pickup trucks. In fact, it is so reliable that you can put everything from groceries to cinder blocks in the back of your truck and still count on it to remain in good shape. Some of the pros and cons of this bed cover include:
Pros:
● Is a lightweight but heavy-duty design
● Accommodates a variety of trucks
● Resists scratches and protects from harmful UV rays
● Comes fully assembled so it is easy to put together
Cons:
● Some people may consider it a bit pricey, depending on their budget
● (No other negative comments found)
TruXedo Lo Pro Soft Roll Up Cover
This is a soft roll-up truck bed cover that is both tear-resistant and ingrained with leather for extra strength. Its low-profile design is both attractive and functional; in fact, the sleek design is a definite head-turner. The cover mounts on the inside walls of the bed so that it provides complete coverage, and it only sits about 3/4" above the bed itself. This is a tough, sturdy truck bed cover that you can count on to provide you with many years of reliability and durability, and it comes with a price that won't break the bank.
Easy to install without complicated tools and without drilling holes in your truck, this bed cover comes with a no-hassle lifetime warranty, which allows you to use it with confidence for many years to come. It is made out of high-quality parts and you get easy access to stake pocket holes in case you'd like to add some accessories in the future. Some of the pros and cons of this bed cover include:
Pros:
● It is very reasonably priced
● It is easy to install and easy to use
● It comes with a lifetime warranty for your peace of mind
● It is both very functional and very attractive on your truck
Cons:
● Some people have complained that it is costly
Extang Trifecta 2.0 Soft Folding Cover
Reasonably priced and super easy to both install and use, this truck bed cover consists of a leather-grain fabric for extra toughness, and it has two EZ locks located at the tailgate that make it easy to keep the cover safe and secure for as long as you need it to be. You can also install the cover without any specialized or complex tools, making it super easy for you to begin using it shortly after you get it home. The materials used in the cover are military grade and therefore extra sturdy, allowing you to enjoy it for many years to come.
Since it is lightweight at less than 28 pounds but tough enough to last for a very long time, you can drive around with confidence once you purchase this bed cover because it looks great and functions great. This is indeed a super-sleek, modern design that looks as if it costs much more than it actually does. Here are a few pros and cons of this truck bed cover:
Pros:
● Leather-grain fabric for extra durability
● Very reasonable price regardless of your budget
● Excellent warranty for peace of mind
● Cover that is easy to install and easy to use
Cons:
● (There are no negative comments about this product found online.)